FidoPhoto
Great portraits of you and your dog 
Details
CHRISTMAS MINI SESSIONS
Wollaton Park - DEC 2nd, 5th & 8th - only £49
Don't miss this great opportunity to have your hound professionally photographed. At fidophoto.com our aim is to capture not just your dog but also something of the relationship between the dog and the pack members (that's you and your family).
sessions start at 9am and run every 30mins through to 3pm




each session lasts 20min




there is no limit to the pack size (so you can have all your family involved)



After the session you will get
an on line viewing gallery from where you can order prints and products




a 5"x7" mounted print




a gallery app



portrait sittings The Details
Our Fido sessions are a great opportunity to have some stunning pictures of your dog created in a glorious natural environment - where the dog is happiest - in the great outdoors with you.
The great thing about these sessions is that they will deliver stunning images and some great products to display and enjoy the pictures
The basic price is £275 - this gives you 
1) A session of up to two hours in a park near you - or on your dog's usual walk
2) A magnificent LARGE (20x24") sized black frame with mount frame 
3) a mobile phone gallery app featuring 10 of your favourite pictures
4) A 16 page soft back mini album featuring up to 20 of your choices
5) A short slideshow which you can share on social media featuring your 20 choices
All in all it's a great deal but we also have some great offers on extra prints and wall mounted products just have a look at our product packages for some examples.
BOOK YOUR SESSION NOW.
Simply use this button to contact us we will then work out a suitable time for your shoot 
Book a FIDOPHOTO SESSION
About the Photographer
Tim Elwood owner of Elwood Photography has been photographing people for more years than he can remember. Wrigley can't remember an awful lot - so they have plenty in common. 
Tim said "I know many people really love the dog - Rover is an important part of the family and as such deserves to have place on the wall."
The fidophoto sessions are just great fun and the results are FANTASTIC - people love them.
Tim is married to Claire and they have 3 grown up kids and of course Wrigley the dog.
A Selection of My Work
click/tap to view bigger
Add ons
With every Woof Wednesday session you get a mobile phone gallery and an A5 soft back booklet. BUT after you have seen your images  you may like to take advantage of the following great product offers we are able to make through some of the best colour labs in the UK.
The Tea Cup Dog Package £100
This package all about an ornate frame to create a stunning piece of wall art. Chose from our SOUTHPORT or CANTERBURY frames See samples in the product gallery
Please note this product is ONLY available in NOTTINGHAM/LEICESTER/DERBY - based sessions
The Scottie Package  £200
Amazing unique value for money package have your picture (or pictures) mounted in one of our mid (500mm square) sized BELFAST or HULL frames. See samples in the gallery below
The Bull Dog Package £250
A single piece of high quality wall art (landscape or portrait) in either of our NEWCASTLE or LEEDS frames. Big statement picture frames designed to really boss the wall space. See samples below
The Dalmation Package £300
A pair of stunning high quality wall art pieces. Take your pick from our range of 6 unique frames - you can have either two different frames OR two the same. So for example you could have 2 NEWCASTLE frames 
Product Gallery
click/tap to view bigger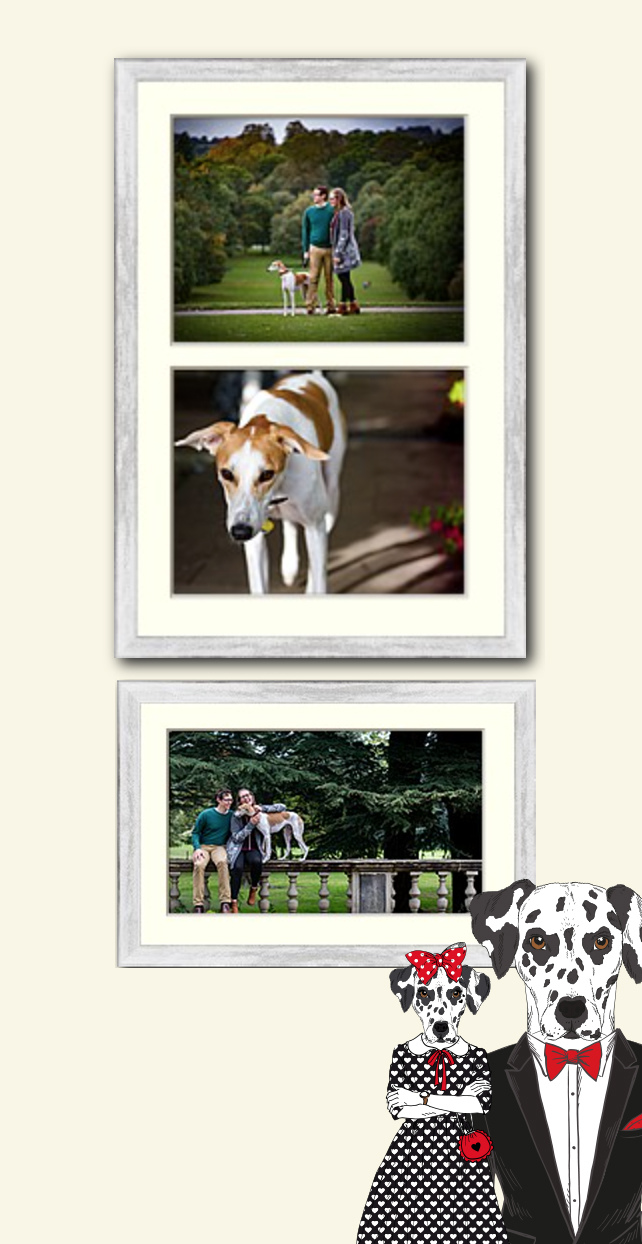 Contact uS
Reserve your FIDOPHOTO session  
Click the button below to send us an email regarding setting up a session.
contact us